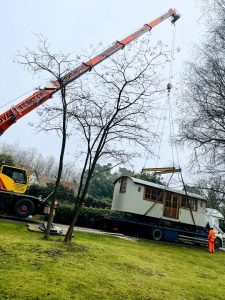 Our AC45 was used to move a large shepherds hut for a client. The hut is going to be used as office space while working from home. Something we all seem to be doing a lot more of these days. We were given these photos showing our AC 45 mobile crane in action moving the large hut over a hedge into its new location.
Before starting, our driver decided to exchanged the lifting beams for larger ones than originally planned to ensure the sides of the hut were not crushed by compression forces created from the slings looping under either end of the hut. The shepherds hut was heavier than originally planned for and using the larger spreader beams ensure the structure of the hut was not compromised during the lift. A small change in estimated weight can have a big impact on what lifting gear is required on site. At Terranova, we always like to edge on the side of caution to make sure all the jobs we do are completed successfully, and our customers are happy with our service.
Contact us today if you have any questions or are interested in hiring our services for a similar contract lift.