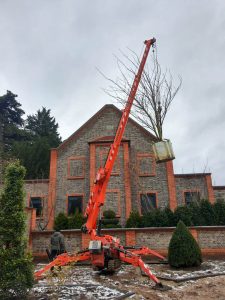 In January, our light weight Jekko spider crane (at only 2395 kg) and operator, were hired by a landscaping service to lift three trees into location at the historic Hillside House in Reading.
Site access, a pedestrian gateway, was narrow and the frozen ground conditions were difficult and uneven. There was also a new ornamental pathway to negotiate, before having to set up and operate in limited space. This however, is where the spider crane's versatility shines through.
With a compact travel width of less than 79cm wide (2ft 7 inches) and is only 199cm tall (6ft 6 inches), the Jekko spider crane is perfectly suited for tight entry and then working in a limited rigging up area.
The uneven ground proved no problem at all for the compact tracked Jekko and due to its small footprint, the operator could place the crane into a position not normally accessible to mobile cranes.
The heaviest lift of the day came in at 400 kilograms, which the spider crane easily managed at the distance required.
Had a spider crane not been available, the only other option for the client would have meant a 55 ton crane, setting up in the car park and lifting over the main (live) building. This would have created considerable logistical issues for the client, as well as a substantial increase in costs.
Providing the right equipment for the job, at the best cost, is what we do foremost at Terranova.