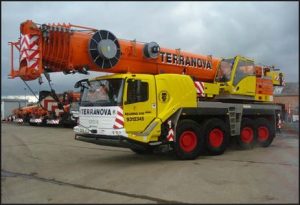 Terranova provides two different types of crane service, mobile crane hire and contract lifts. Mobile crane hire consists of the crane and driver, however the hirer is responsible for providing a Method & Risk Assessment and all the required insurance. A Contract lift includes the insurance and the required Method Statement when managing or supervising a lift, all the customer needs to do is tell us what needs lifting, where and when. This is our recommended service.
Mobile Crane Hire
We have a vast range of mobile cranes for hire, all from the leading manufacturers – Demag / Terex, Kato, Grove and Liebherr.
Our mobile cranes are categorised as follows:
Lorry Loader Cranes – from 65 tonne to 85 tonne
All Terrain Mobile Cranes – from 10 tonne to 350 tonne
City Class Mobile Cranes – 10 Tonne, 25 Tonne, 40 Tonne & 70 Tonne.
(The 70 Tonne being the largest city mobile crane ever made and one of the only two left in the UK.)
Along with providing mobile cranes, we can also supply the following additional personnel and hire equipment.
Slinger Banksman
Appointed Persons
Lifting Beams
Spreader Beams
Ground Protection Mats
Heavy Duty Matting
Man Baskets
Brickforks
Block Grabs
Rollover Skips
Concrete Skips
15t – 50t Wire Bonds
full traffic management
radios, from 2 up to 6 way
We also offer site surveys. Please use our Book a Site Survey page to arrange a visit, or give us a call TODAY to chat to one of our Crane Consultants.
Contract Lifting
Terranova can provide a Contract Lift service. This relieves each customer of the responsibility for preparing Method Statement & Risk Assessments, managing & supervising the lift. As with all lifts we undertake we will comply with the LOLER Regulations 1998. When a Contract Lift has been specified, Terranova will provide all necessary equipment, trained operators, appointed persons, support team, method statements and all necessary insurance.