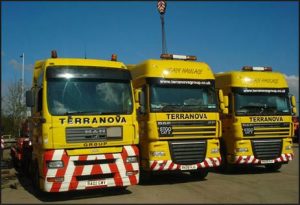 Terranova can provide you with a vast range of transport services. We operate a varied fleet of HGV vehicles from 3.5 tonne Transit Van to Special Type General Order (STGO) maximum weight articulated vehicles. With a very diverse fleet we are ideally placed to tackle the needs of all transport requirements whether they be large, small, wide or high.
HIAB Vehicles (Self Loading Crane Vehicles)
We have a first class selection of four, six, and eight wheeled vehicles that are all equipped with various different HIABs capable of different lifting duties and all are equipped with remote controls. All our personnel are fully qualified CPCS card holders for lorry loader HIABs and slinger/signaller duties. All vehicles carry up to date tackle and crane certificates. We also supply beavertail plant bodies vehicles with winches as well as lamp post / mobile phone mast carriers. The latest additions to the fleet are drawbar trailers.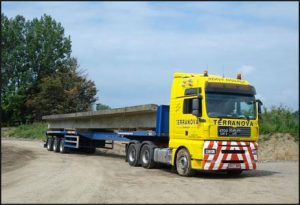 Self-Loading Crane Vehicles
We have a wide range of vehicles available from 7.5 tonne to 40 tonne with cranes from 5.5 metre/tonne to 32 metre/tonne. All these are flat beds with body lengths from 4.8 metres to 8.53 metres and draw bar trailers. Some of our vehicles are fitted with plant bodies and equipment with winches.
Articulated Vehicles
We run articulated tractor units with configurations that can be used under normal Construction and Use (C&U) regulations or STGO regulations. Our diverse selection of different types of trailers means our transport versatility is second to none.
Trailer Fleet
The extensive trailers that Terranova operates means we are the front runners for all specialised transport requirements.
Our trailer fleet consists of:
45ft flatbed trailers fitted with PSK (twistlocks) Rear steering double extending flat bed trailers.
Extendable semi low loaders with rear steering.
Fixed bed semi low loaders with hydraulic ramps and outriggers.
Heavy duty extendable low loaders with outriggers.
Heavy duty low loaders with fixed bed and outriggers.
Unit – Full Load Services
We can offer complete consignments to 44 G.V.W using a variety of trailer types or alternatively a traction only service.
Heavy and Abnormal Load Services
A specialist Division of Terranova comprises of a range of tractor units & trailers of various lengths & weights.
Route Planning and Escort Vehicles
We provide a full route surveying and notification service throughout the UK & Europe liasing closely with Police and highway/bridge authorities regarding the movement of wide, high and heavy loads. Working in conjunction with the Crane Division we can give our customers the benefit of being able to "one stop shop" for the lifting and transportation of their equipment throughout the UK & Europe. Full escort vehicles are available in accordance with the High Way Agency code of Practice.
Expert Support
As well as offering heavy and abnormal load services, Terranova is always willing to support the customer with expert advice on any type of operation (big or small). Working hand-in-hand with all the other departments gives a wide band of expertise and gives you the answers that you need when you need them.