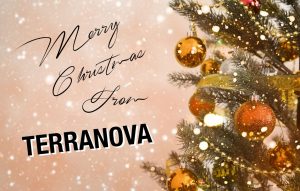 Terranova would like to wish everyone a good Christmas and a happy New Year!
2020 has been a year of exceptional challenges and changes to the way we all work and live. Everyone has worked hard to get through what has been a tough year. The Terranova Family would like to thank all our customers and staff for working harder than normal this year and helping keep us all safe.
We reserve a special thank you to the NHS who have been extraordinary during these testing times and continue to do so. We like to think we did our bit by helping build some Nightingale wards, however we appreciate this is nothing compared to what the NHS has done, so thank you NHS for being the best in the world.
We'd also like to thank all the vaccination scientists, like Prof Sarah Gilbert, who have given us all hope for 2021. We are already looking forward to a Happy New Year.
Creating A Wonderful Christmas Memory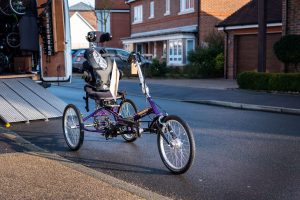 Each Christmas we like to do something special for someone. This year's Christmas gift was a very special one. We took on a new member of staff this year and while getting to know Lisa we learnt about her wonderful daughter Gracie. It become obvious to all of us the enormous love that Lisa has for her daughter. Gracie has a condition called with Ataxia-Telangiectasia (or A-T for short). A-T is a rare genetic disorder of the ATM gene that affects different systems within the body. This genetic change results in a number of things, one of them being an increasing physical disability. It's been important for all of us to do our best to keep fit during this pandemic, running, walking or cycling are great simple ways of do this for almost everyone, however not for Gracie. Walking or cycling is a huge challenge for Gracie and therefore make things like family cycle rides, which a lot of us take for granted, near impossible, until now.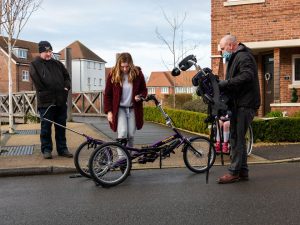 Lisa told us she had recently learnt about a company that creates specialised teenage bikes that cater for children with her daughter's condition, however she unfortunately she just couldn't afford one this year. Unlike ordinary bicycles, Tomcat trikes are hand made in the UK and can be specifically customised for a rider's needs.
Thanks to Terranova, Gracie's customised trike was delivered this month by Kevin from Tomcat. Alec from Terranova was there to see the latest member of the Terranova fleet (complete with Terranova logo) delivered. The joy on Gracie's face was a wonderful sight to see* as the trike was delivered in her favourite colour, "sparkly" metallic purple. Gracie took to riding the trike like a duck to water and was soon racing around to delight of her mum who at times had to make an effort to keep up.
With this newest member of the Terranova fleet, Lisa hopes to take Gracie out on cycle rides not just while Lisa goes for a walk, but also while she is cycling using a bike-tow attachment to Gracie's trike.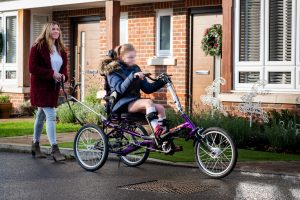 In this time of lockdowns and self isolation it will bring some much needed freedom, fresh air, and opportunity for exercise for the whole family. We hope you enjoy many years of cycling together. Merry Xmas!
If you would like to help the AT society, we would encourage you to donate via their website using the "Donate Now" button on their home page. During these difficult times the AT society needs our help more than ever and all donations of all sizes will be gratefully received.
* We wish we could share Grace's smiles, however in respect of her privacy and at her mother's wishes it was requested to obscure her identity using pixelation.