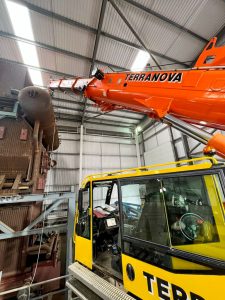 Our fantastic Demag AC70 got called upon to do a special job in Wellingborough, Northamptonshire (UK). Our client had a steam drum weighing 15 tonne with a required reach of 9m above ground and the load extremely close to a roof ceiling. As any crane operator will know, this was no vanilla lift due to the confined space, weight and minimal distance between the load and the ceiling. The client had already attempted contracting a 70te Liebherr and then again using a larger 90te crane to complete the job but both were unsuccessful. Both cranes would have required the roof to be temporarily removed at an estimated cost of £60,000.
We were subsequently recommended as we have one of the few remaining AC70s left in the UK. This highly specialised heavy city crane is no longer in production due to changes in EU regulations of its power units that empowered its highly compact design.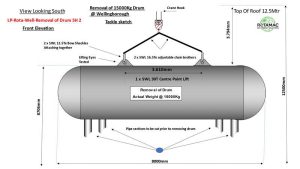 The heavy city crane can manoeuvre and operate in tight urban spaces and outperform its modern day equivalents with its sturdy 9 section boom and mammoth lifting power for its size.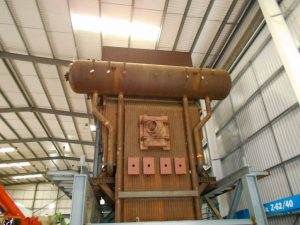 Even with our AC70, due to the restricted ceiling clearance, we had to request for written dispensation from the manufacturer for an unpinned lift* at that precise height for 19 tonne (load weight + 25%). This requirement made it a critical lift** and great care had to be taken during the operation to ensure everyone's safety and that the client's equipment remained undamaged.
As you can see the operation went smoothly, was completed successfully and most importantly the client was very pleased with the completed job.
The twin hydraulic rams of the AC70 holding the boom steady

Hello and good morning Alec,
Yesterday the removal of the critical lift steam drum went very well thanks to using your Terex Demag 70 city crane.
Amazing crane, done very well and was perfect for the height restrictions that we had.
Your crane operator was first class and nothing was a problem for him, lovely man with a great work attitude.
Thank you Alec, for providing a great service we will be using you again for certain.

* Unpinned Lift
An unpinned lift is a critical lift where the crane's boom cannot be fully extended into one of its locked positions. The AC70 boom is made up of 9 sections, 8 of which can be individually extended by an internal dolly and securely locked into position. For these locked positions the manufacturer provides load charts showing the Maximum Rate Capacity (MRC) the crane can lift at various boom angles and configurations. The more acute the angle, the lower the Rate Capacity (RC) becomes due to the increased lateral loading of the boom. So for some jobs you can use the angle of the boom to reduce the height of the Upper Sheave (pulleys holding the lifting line at the tip of the boom) while still locking the required boom sections. However, where space is restricted or the angle of the boom reduces the RC so even a 90 tonne crane cannot lift 15te safely, you need a special crane to do the job. With our AC70, years of experience of a family run business, written dispensation, and a highly skilled crane operator all helps to get a challenging job completed successfully, smoothly and most importantly, safely for our client.
** Critical Lift
A critical lift is any lift where there is higher risk than would be expected under normal working conditions. This could be where any equipment is taken beyond its normally expected working load (75% of its Maximum Rate Capacity), work carried out close to an area where public access cannot be easily restricted (urban/cities), working close to hazardous materials (eg. hydrocarbons, toxin chemicals), or the equipment is being used outside the manufacturer's recommended parameters of usage.