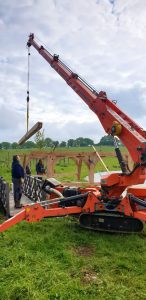 As this job Alresford, Hampshire shows, our Jekko SPD360 spider crane, which is normally used internally to safely lift construction objects, like large glass panels or heavy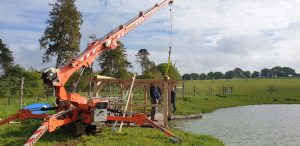 support beams, high up in very confined spaces, can also be used effectively outside. Where a normal compact all terrain crane may damage soft ground or may require access work completed to just get to the job site, our spider crane with its narrow light body and long caterpillar tracks can travel with minimal disturbance.
As you can see from the photos, once there it is ideal to safely lift heavy objects (up to 1.8te) for precision placement. Possibly difficult and awkward jobs not only become easier and safer, but also leave the client with an even more professional opinion of your services for potential future work.
Our SPD360 also costs less per day than a larger crane with more capacity than necessary. So contact us today and save money on your next lift.
If you think the SPD360 would be the ideal crane for your job, request a Site Survey today and discover how we can help you.