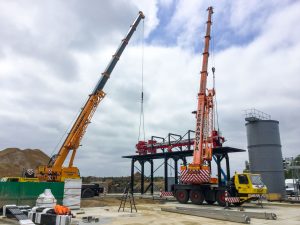 Terranova can provide a vast range of mobile cranes to create the most ideal solution for your lift. Our extensive fleet consists of mobile cranes from the leading manufacturers in the industry – Demag / Terex, Kato, Grove and Liebherr. Our mobile cranes range from super heavy duty 350 tonnes, all terrain, luffing cranes to compact spider cranes with large 10 meter booms, but with a travel size as small as 199cm by 79cm. Our Terex Demag AC70 is the largest mobile city crane ever made and there is only one other in UK.
We also have;
Contract Lifting
Terranova can provide a Contract Lift service. This relieves each customer of the responsibility for preparing Method Statement & Risk Assessments, managing & supervising the lift. As with all lifts we undertake we will comply with the LOLER Regulations 1998. When a Contract Lift has been specified, Terranova will provide all necessary equipment, trained operators, appointed persons, support team, method statements and all necessary insurance. To order a Contract Lift you will first need to get a Site Survey completed.
Additional Personnel and Equipment
Along with providing mobile cranes we can also supply the following additional personnel and equipment. These are additional items for Mobile Crane hire, however they would be included as part of a Contract Lift.
Slinger Banksman
Appointed Persons
Lifting Beams
Spreader Beams
Ground Protection Mats
Heavy Duty Matting
Man Baskets
Brick forks
Block Grabs
Rollover Skips
Concrete Skips
15t – 50t Wire Bonds
full traffic management
radios, from 2 up to 6 way
Use our Book a Site Survey page to arrange a visit, or call us TODAY on +44 (0) 1252 854 596 to chat to one of our Crane Consultants.
Why use a Mobile Crane?
Mobile Cranes are the best solution for lifting or moving heavy objects over short distances when;
floor/ground level access is blocked or not suitable (uneven, soft or delicate).
the object is heavy or its dimensions are too large to be lifted by other means.
the final destination is higher than the object can be lifted safely or cost effectively by other means.
the object is fragile and peak dynamic stresses need to be avoided (e.g. abrupt jolting associated with traveling over uneven surfaces).
lifts are required at different area of a work site area (so quick conversion from travel to lift configuration is important for minimising costs).
lifts are completed over a short time frame so using a mobile crane only when needed is more cost effective than having a static crane standing idle for long periods of time.
Still not sure? Contact us today on +44 (0) 1252 854 596 if you have any questions and one of our crane consultants will be happy to help you.