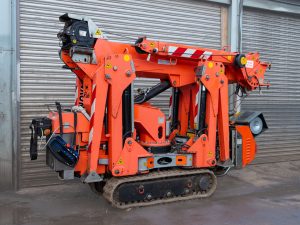 Advantages of the SPD360 Spider Crane
Able to move and work in confined internal spaces.
Can be easily lifted, either by a medium duty mobile crane or within a suitable existing service elevator.
Optional glass or non-porous panel handler/manipulator can be attached for safe and precise movement of heavy panels (MR 800.4).
Demonstration Video
For sound/music, click on the unmute icon at bottom left of embedded video (mouse over or touch the video display first). Viewers using small screened devices may need to view this video via the Youtube website.

Parameters
Weight: 2400kg
Ground Pressure: 0.44 Kg/cm² (on caterpillar tracks)
Travel Dimensions
Width: 0.8m
Length: 3.1m
Height: 1.99m
Turning Circle: 1.55m (radius)
Operational Dimensions (Lifting)
Width: 4m
Length: 4m
Max Lift capacity: 1.8 tonne
Max Outrigger Load: 1.9 tonne (each)
Max Boom Telescopic Length: 10.5m
Max Boom Height: 13m
Max Lift Distance: -55m